Weight 147 lbs (66.82 kg)
Age 34
Home Ventura, California,
After crossover roles in movies and on TV, former 147-pound world champion Victor Ortiz is determined to return to the top of the division. Read Bio
Last Fight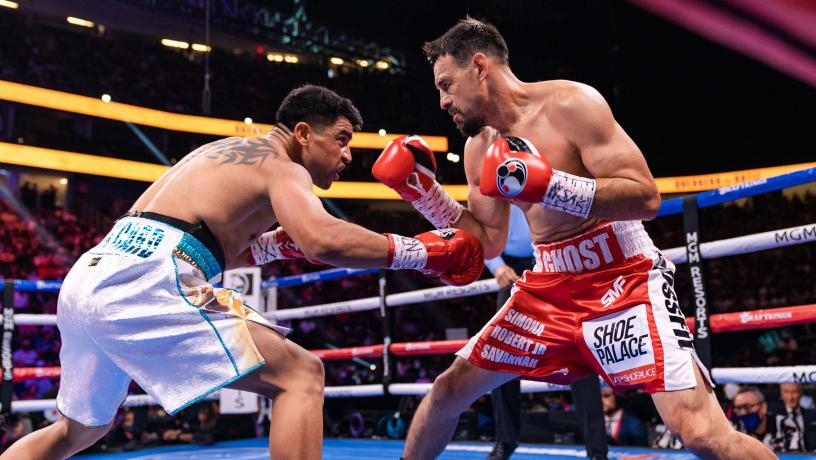 Aug 21, 2021 / T-Mobile Arena, Las Vegas, Nevada
Former welterweight champion Victor Ortiz falls short in welterweight clash against Robert Guerrero, losing by way of UD.
Sign Up for
PBC

News

Get the latest fight announcements, fighter spotlights, and other PBC news delivered to your inbox.

Victor Ortiz News
Aug 22, 2021 / Pacquiao vs Ugas, Manny Pacquiao, Yordenis Ugas, Robert Guerrero, Victor Ortiz, Julio Ceja, Mark Magsayo, Carlos Castro, Oscar Escandon, Frank Martin
The smooth-boxing Cuban outboxes and out-brawls one of boxing's icons to retain his world welterweight title Saturday night on pay-per-view.
Aug 18, 2021 / The PBC Podcast, Robert Guerrero, Victor Ortiz
Former champs Guerrero and Ortiz discuss what they're fighting for as they prepare to throw down in a crossroads welterweight match Saturday night on the Manny Pacquiao-Yordenis Ugas card live on YouTube PPV and FOX Sports PPV.
Victor Ortiz Fights
Apr 30, 2016 • StubHub Center, Carson, California, USA
Andre Berto WINS against Victor Ortiz by KO in Round 4 of 12
Win

vs

Gilberto Sanchez

Leon

33-13-2
Dec 12, 2015 • AT&T Center, San Antonio, Texas, USA
Victor Ortiz WINS against Gilberto Sanchez Leon by TKO in Round 8 of 10
Win

vs

Manuel

Perez

22-10-1
Dec 13, 2014 • MGM Grand, Grand Garden Arena, Las Vegas, Nevada, USA
Victor Ortiz WINS against Manuel Perez by TKO in Round 3 of 10
Jan 30, 2014 • Barclays Center, Brooklyn, New York, USA
Victor Ortiz LOSES to Luis Collazo by KO in Round 2 of 12
Jun 23, 2012 • Staples Center, Los Angeles, California, USA
Victor Ortiz LOSES to Josesito Lopez by RTD in Round 9 of 12
LOSS

vs

Floyd

MayweatherJr

41-0-0
Sep 17, 2011 • MGM Grand, Las Vegas, Nevada, USA
Floyd MayweatherJr WINS against Victor Ortiz by KO in Round 4 of 12
LOSS

vs

Floyd

Mayweather Jr

41-0-0
Sep 17, 2011 • MGM Grand, Las Vegas, Nevada, USA
Floyd Mayweather Jr WINS against Victor Ortiz by KO in Round 4 of 12
Apr 16, 2011 • Foxwoods Resort, Mashantucket, Connecticut, USA
Andre Berto LOSES to Victor Ortiz by UD in Round 12 of 12
Draw

vs

Lamont

Peterson

35-5-1
Dec 11, 2010 • Mandalay Bay Hotel & Casino, Mandalay Bay Events Center, Las Vegas, Nevada, USA
Victor Ortiz DRAWS with Lamont Peterson by MD in Round 10 of 10
Win

vs

Vivian

Harris

29-4-1
Sep 18, 2010 • Staples Center, Los Angeles, California, USA
Victor Ortiz WINS against Vivian Harris by KO in Round 3 of 10
Win

vs

Nate

Campbell

33-5-1
May 15, 2010 • Madison Square Garden, New York, New York, USA
Victor Ortiz WINS against Nate Campbell by UD in Round 10 of 10
Win

vs

Hector

Alatorre

16-8-0
Feb 25, 2010 • Club Nokia, Los Angeles, California, USA
Victor Ortiz WINS against Hector Alatorre by TKO in Round 10 of 10
Win

vs

Antonio

Diaz

46-5-1
Dec 12, 2009 • UIC Pavilion, Chicago, Illinois, USA
Victor Ortiz WINS against Antonio Diaz by RTD in Round 7 of 10
LOSS

vs

Marcos Rene

Maidana

35-5-0
Jun 27, 2009 • Staples Center, Los Angeles, California, USA
Marcos Rene Maidana WINS against Victor Ortiz by TKO in Round 6 of 12
Win

vs

Mike

Arnaoutis

21-2-2
Mar 07, 2009 • HP Pavilion, San Jose, California, USA
Victor Ortiz WINS against Mike Arnaoutis by TKO in Round 2 of 12
Win

vs

Jeffrey

Resto

22-2-0
Dec 06, 2008 • MGM Grand, Grand Garden Arena, Las Vegas, Nevada, USA
Victor Ortiz WINS against Jeffrey Resto by TKO in Round 2 of 12
Win

vs

Roberto David

Arrieta

30-13-4
Sep 13, 2008 • MGM Grand, Las Vegas, Nevada, USA
Victor Ortiz WINS against Roberto David Arrieta by TKO in Round 5 of 12
Win

vs

Dairo

Esalas

31-12-0
May 03, 2008 • Home Depot Center, Carson, California, USA
Victor Ortiz WINS against Dairo Esalas by KO in Round 5 of 10
Win

vs

Carlos

Maussa

20-4-0
Nov 10, 2007 • Madison Square Garden, New York, New York, USA
Victor Ortiz WINS against Carlos Maussa by KO in Round 1 of 10
Win

vs

Emmanuel

Clottey

24-7-0
Aug 30, 2007 • Grand Plaza Hotel, Houston, Texas, USA
Victor Ortiz WINS against Emmanuel Clottey by TKO in Round 10 of 10
Win

vs

Maximino

Cuevas

9-5-1
Jun 29, 2007 • Cliff Castle Casino, Camp Verde, Arizona, USA
Victor Ortiz WINS against Maximino Cuevas by KO in Round 1 of 10
Win

vs

Tomas

Barrientes

27-10-1
Apr 14, 2007 • Alamodome, San Antonio, Texas, USA
Victor Ortiz WINS against Tomas Barrientes by TKO in Round 5 of 8
Draw

vs

Marvin

Cordova Jr

12-0-0
Jan 19, 2007 • Dodge Arena, Phoenix, Arizona, USA
Victor Ortiz DRAWS with Marvin Cordova Jr by TD in Round 1 of 8
Nov 03, 2006 • Palo Duro Golf Club, Nogales, Arizona, USA
Victor Ortiz WINS against Yair Aguiar by KO in Round 2 of 6
Win

vs

Alfred

Kotey

24-12-1
Sep 08, 2006 • Gilley's, Dallas, Texas, USA
Victor Ortiz WINS against Alfred Kotey by UD in Round 8 of 8
Win

vs

Orlando

Cantera

5-4-2
Jun 23, 2006 • Palo Duro Golf Club, Nogales, Arizona, USA
Victor Ortiz WINS against Orlando Cantera by TKO in Round 4 of 8
Win

vs

Freddie

Barrera

10-0-0
Mar 31, 2006 • Activities Center, Maywood, California, USA
Victor Ortiz WINS against Freddie Barrera by TKO in Round 1 of 8
Win

vs

Nestor

Rosas

11-0-0
Feb 10, 2006 • Roseland Ballroom, San Antonio, Texas, USA
Victor Ortiz WINS against Nestor Rosas by KO in Round 5 of 8
Win

vs

Leroy

Fountain

9-1-0
Jan 06, 2006 • Santa Ana Star Casino, Bernalillo, New Mexico, USA
Victor Ortiz WINS against Leroy Fountain by KO in Round 4 of 8
Win

vs

Donnell

Logan

8-5-1
Nov 04, 2005 • Ventura Theatre, Ventura, California, USA
Victor Ortiz WINS against Donnell Logan by TKO in Round 2 of 4
Win

vs

Kevin

Carmody

5-4-1
Sep 09, 2005 • Edgewater Hotel, Laughlin, Nevada, USA
Victor Ortiz WINS against Kevin Carmody by UD in Round 6 of 6
Win

vs

Oliver

Bolanos

4-10-1
Aug 26, 2005 • D & I Colonial Ballroom, Houston, Texas, USA
Victor Ortiz WINS against Oliver Bolanos by UD in Round 4 of 4
Loss

vs

Corey

Alarcon

11-9-0
Jun 03, 2005 • Performing Arts Center, Oxnard, California, USA
Victor Ortiz LOSES to Corey Alarcon by DQ in Round 1 of 6
Win

vs

Rodney

Jones

3-2-2
Mar 05, 2005 • Mandalay Bay Resort & Casino, Las Vegas, Nevada, USA
Victor Ortiz WINS against Rodney Jones by TKO in Round 2 of 4
Feb 11, 2005 • Convention Center, San Diego, California, USA
Victor Ortiz WINS against Joel Ortega by TKO in Round 1 of 4
Nov 26, 2004 • Plaza Hotel & Casino, Las Vegas, Nevada, USA
Victor Ortiz WINS against Juan Patino by UD in Round 4 of 4
Win

vs

Charles

Hawkins

1-3-0
Oct 08, 2004 • Edgewater Hotel & Casino, Laughlin, Nevada, USA
Victor Ortiz WINS against Charles Hawkins by TKO in Round 4 of 4
Sep 17, 2004 • Plaza Hotel & Casino, Las Vegas, Nevada, USA
Victor Ortiz WINS against Lee De Leon by TKO in Round 2 of 4
Win

vs

Alejandro

Nungaray

1-1-1
Jul 24, 2004 • Flamingo Hotel and Casino, Laughlin, Nevada, USA
Victor Ortiz WINS against Alejandro Nungaray by UD in Round 4 of 4
Jun 04, 2004 • Plaza Hotel & Casino, Las Vegas, Nevada, USA
Victor Ortiz WINS against Raul Montes by TKO in Round 1 of 4
Weight 147 lbs

(66.82 kg)
Born

January 31, 1987

Age

34

Country

USA

Born in

Garden City, KS

Trains in

Ventura

, CA
Stance

Southpaw

Rounds Boxed

201

KO Percentage

59.52%

Boxing Hero