Unbeaten rising star Gary Antuanne Russell (16-0, 16 KOs) delivered a sixth-round TKO over former two-division Rances Barthelemy (29-2-1, 15 KOs) in their super lightweight clash to keep his perfect knockout streak intact.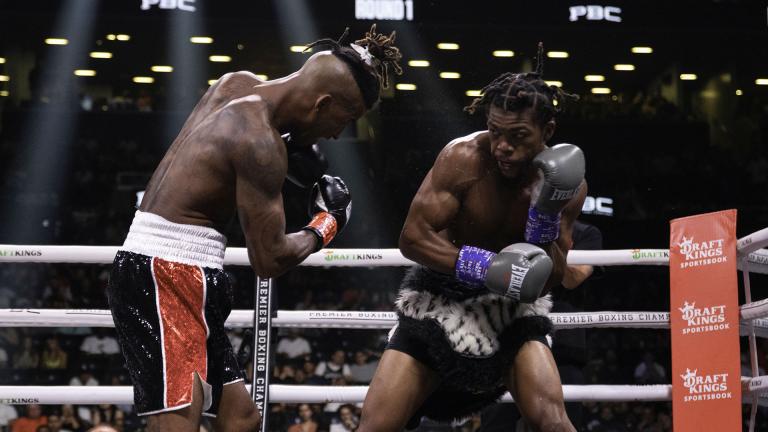 Russell landed a clean leaping right hook that dropped Barthelemy early in the round, and while Barthelemy was able to get to his feet, referee Shada Murdaugh waived off the action, drawing boisterous complaints from Barthelemy, his corner and the crowd in attendance.
"I know Rances is a high-grade, class athlete and he wanted to continue," said Russell, who revealed post fight that he hurt his left hand in the fifth round. "Emotions were high. Whether we are bruised or beaten, as a warrior, you always want to continue but the referee was doing his job and if he was allowed to continue it would have been the same outcome. I would have gotten him.
"In the sixth round I had him backing up. I knew he was looking for his right cross and I caught him backing up and I shot my hook and put him down, he was buzzed but he wanted to keep going. He's a warrior."
"This is the most bitter loss of my career," said Barthelemy. "I'm destroyed. Don't get me wrong, this wasn't Russell's fault at all. I'm a veteran, and I had been through something like that plenty of times in my career. The referee treated me like a rookie instead of the two-time world champion I am."
The bout featured intriguing action from two skilled southpaws, as Russell and Barthelemy went toe-to-toe in a compelling round one that saw both men throw over 60 punches and each eat big shots. As the action progressed, Barthelemy was able to find success countering the hard-charging Russell, who dictated much of the fight's pace.
The fighters threw within five total punches of each other per round across the bout, including combining to throw 361 power punches out of 515 total thrown. Barthelemy expressed his displeasure with the referee's decision post-fight and staked his claim to a rematch against Russell. At the time of the stoppage, the score totals were 49-46 twice and 48-47 in favor of Russell.
"No, they shouldn't have stopped it," said Barthelemy. "I felt good. It was a good shot, I'm not denying that, but they shouldn't have stopped it. I got up and told him I was fine and good to go. Of course I want the rematch with a different referee."
Fighting for the first time since the passing of his father and lifelong trainer Gary Sr., Russell was led in his corner by his brother and former WBC Featherweight World Champion Gary Russell Jr., as he looks to continue his ascent in the 140-pound division.
"I want to tell my father up above I did it for him, we're going to keep it going for pops," said Russell. "This is something my dad instilled in us, no matter what you go through in life and death, two things are inevitable, he raised us to be men and well-rounded men. Being thorough means to be prepared, and he prepared us for boxing and for life outside of boxing. I thank my father and I did what I had to do."