Highlights
–David Benavidez switched from orthodox to southpaw against Denis Douglin early in Round 6 and began to find the range, digging in for a pair of body shots before landing a mouthpiece-jarring right hand.

–With 15 seconds left in the ninth round, Benavidez capped a four-punch flurry with a left uppercut to the head that sent Douglin to the canvas.

–Benavidez continued to pummel Douglin with uppercuts and hooks to the body before referee Gary Rosato stopped the fight 35 seconds into Round 10.
David Benavidez gained some invaluable experience against a tough opponent. The teenager also picked up another knockout, too.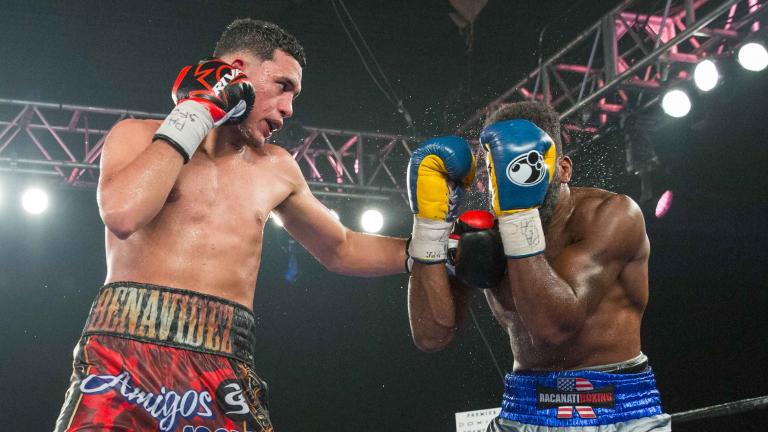 Benavidez went deeper into a fight than he had ever been before the 19-year-old power puncher earned a 10th-round TKO of Douglin.
Douglin was able to smother the 6-foot-2 Phoenix native for much of the fight despite giving away six inches in height, but Benavidez finally broke through with a knockdown in Round 9 before gaining the stoppage in the final frame.
Benavidez's length and power really began to take their toll on Douglin in the ninth, when the teen landed a left uppercut to begin a four-punch volley that dropped the 28-year-old southpaw with 15 seconds left in the round.
It was more of the same to begin the 10th as Benavidez punished Douglin with an array of uppercuts and hooks before referee Gary Rosato stepped in and stopped the fight 35 seconds into the round.
It was the eighth straight knockout for Benavidez, but just his fourth time fighting past four rounds, eclipsing his seventh-round TKO of previously unbeaten Francy Ntetu in June as the longest fight of his career.
Douglin, who is trained by his mother, Saphya, and nicknamed "Momma's Boy," controlled the first couple rounds of the fight as the Marlboro, New Jersey, resident worked inside against his much taller opponent and landed some solid shots as he was able to position Benavidez against the ropes.
Benavidez began to alternate from orthodox to southpaw after that and dug in for a pair of body shots before landing a mouthpiece-jarring right hand in Round 6.
Midway through the seventh, Benavidez bounced against the ropes and nearly collapsed to the canvas as the support for the top rope came unattached and had to be repaired, causing a 2½-minute delay.
With Rosato holding the ropes at times afterward to negate the weight of the fighters, Benavidez started to wear down Douglin, who was stopped for the fourth time in his career.