In the telecast opener, Kenneth Sims Jr., (20-2-1, 7 KOs) moved one step closer to a first world title shot as he out-dueled fellow top super lightweight contender Batyr Akhmedov (9-3, 8 KOs) in a thrilling WBA Super Lightweight World Title Eliminator that ended in a majority decision in favor of Sims, 116-112, 115-113 and 114-114.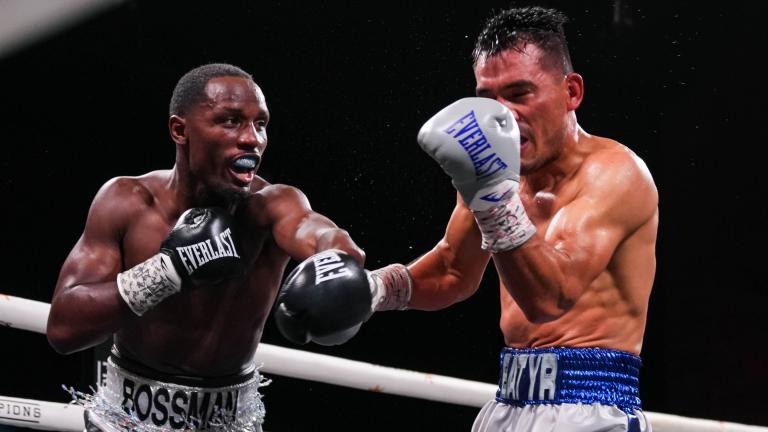 After the verdict was read by Jimmy Lennon Jr., Sims collapsed to the canvas and then sobbed into his father and trainer Kenneth Sims Sr.'s, chest following the biggest win of the 29-year-old's career.
The Chicago-born Sims now training in Las Vegas and the Los Angeles resident and Uzbekistan's Akhmedov combined to land 640 punches, the most thus far in 2023.
"This is what I've been waiting on for years," said Sims, who won for the seventh straight fight. "I'm not supposed to be here right now. That's what they say. Ain't nobody thought I would be here right now. And I know that I'm the best so at 140 it's whatever. I'm ready for anyone."
Akhmedov landed 331 punches to 309 for Sims in the close contest. Sims landed 46% of his power punches, compared to an equally impressive 40% for Akhmedov. In the championship rounds, Sims landed 87 power punches to Akhmedov's 82.
Both fighters continued to push the pace entering the 10th round with Sims' suffering swelling around his right eye that closed up as the all-action fight concluded.
"This is what I expected," said Sims, whose only two career losses came on SHOBOX: The New Generation® prospect series. "This is what I expected of him but I'm a savage. I'm a dog. I have that dog in me. And that's what I was saying during this whole time leading up to this that I had that dog in me and I was going to show them. My eye wasn't bothering me. I don't care. Like I said, 'I'm a savage.' I don't care.
"I want the winner of the main event. I want that title. That's it. Whoever wins the main event that's who I want."
Akhmedov thought he won the fight after suffering another close loss on the judges' cards. His previous two losses were also narrow defeats on points. "It's like every time I don't stop my opponent it's like they win," he said. "It seems like it's a goal against me. If they reach the 12th round it's like they already won and they're already celebrating because the judges give it to them. Look at the punch stats. It's the third time in a row. I won again. I'm winning rounds, I'm throwing more, I'm hurting him more. He's surviving seven rounds out of 12."