Most former world champions who jump back in the ring after a 19-month sabbatical usually do so against an opponent who is little more than a glorified sparring partner. Let the record show that Brandon Rios doesn't believe in tomato cans.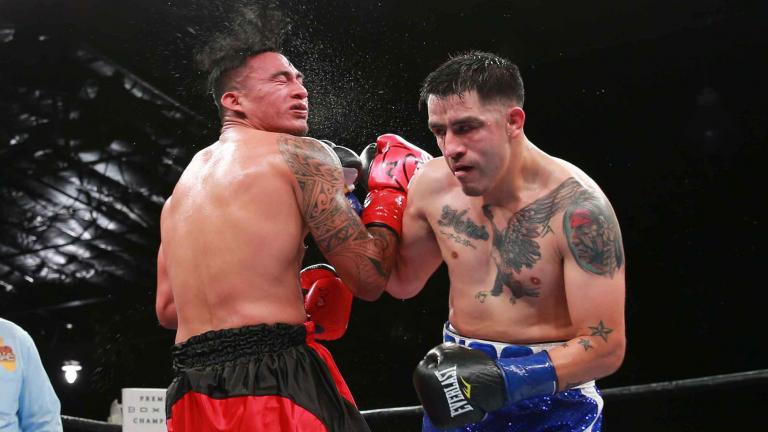 A onetime 135-pound world champ, Rios returned to action literally and figuratively as he slugged it out with hard-hitting Mexican veteran Aaron Herrera in a 147-pound clash.
In a highly entertaining brawl in which both fighters dished out and received their fair share of punishment, Rios eventually wore down Herrera with his constant pressure, using a brutal body shot to secure a seventh-round knockout.
Rios earned his first victory since stopping Mike Alvarado in January 2015, and was making his first ring appearance since November 2015, when the Oxnard, California, resident was knocked down twice in the ninth and final round of a TKO loss to 147-pound champion Tim Bradley Jr. in Las Vegas.
After the defeat—which was his third in five bouts, and his first career knockout loss—Rios announced he was hanging up the gloves after an 11-year career.
As is often the case in his sport, though, Rios ultimately realized that he had not flushed boxing entirely from his system.
But rather than ease his way back with a tune-up fight against a foe who would offer about as much resistance as a heavy bag, Rios chose to tussle with Herrera. It was a dangerous decision for the 31-year-old Rios, in that Herrera not only has more than 10 years of professional experience, but he had fought six times since Rios was last in the ring.
Although Herrera lost the first three of those fights to opponents with a combined 55-0 record, he rebounded to win the next three—all in knockout fashion.
The 28-year-old native of Yucatán, Mexico, seemed hell-bent on making it four knockouts in a row Sunday when he decided to trade fire with Rios from the opening bell. For the most part, Rios got the better of the early-round exchanges, constantly coming forward and ripping multi-punch combinations—a variety of hooks, uppercuts and right crosses—to the head and body.
Undaunted, though, Herrera answered with some powerful combinations of his own, particularly in the fourth round, which was his best of the fight. The stanza was punctuated by a rapid-fire quartet of left hooks that rocked Rios both upstairs and downstairs.
Herrera was at his best when he could use his slight height and reach advantages to control the distance. Unfortunately for him, Rios limited those opportunities by continuing to press the action—even as he ate leather.
Rios, who was fighting for the first time under trainer Ricky Funez, did his best work when he backed Herrera against the ropes and unleashed punches from various angles and at multiple target points. Not surprisingly, it was against the ropes where Rios closed the show late in Round 7.
It started when Rios backed up Herrera with a punishing left hook to the body, followed by two quick jabs to the forehead and then a rib-rattling right hook to the body that dropped Herrera to his knees.
When Herrera failed to beat referee Jack Reiss' count at the 2:11 mark of the round, Rios sprinted to one corner of the ring, jumped on the ropes and thrust his fists in the air in jubilation.