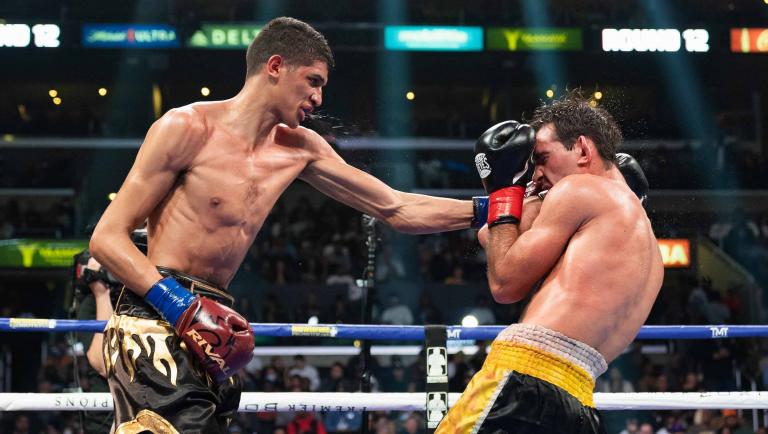 In the co-main event, Sebastian "Towering Inferno" Fundora moved closer to a world title shot with a 12-round unanimous decision over the previously-unbeaten Sergio Garcia in a WBC Super Welterweight Title Eliminator.
Final scores read 118-110, 117-111 and 115-113.
Fundora established control quickly in the first, snapping Spain's Garcia's head back with a booming left. The two traded evenly through the early rounds. Garcia had his moments, including a sharp overhand right in the fifth that drew blood from Fundora's nose.
The 23-year-old Fundora found his range in the sixth, pumping the jab and using his 6-foot-5 frame and 80-inch reach to keep Garcia at bay.
"I was using my distance a lot more. I wanted to display something different than what I'm used to," said Fundora. "Height was definitely a difference in this fight."
Garcia struggled to land during the second half of the bout, save for a couple moments in the 12th when the two combatants stood toe-to-toe.
"Maybe things could have been different if I had been more aggressive from the beginning," said Garcia. "I shouldn't have let myself get carried away by what he was doing."
Fundora believes he's ready for a world title shot.
"We just beat the No. 2 in the WBC, so we have No.1, and we have the champion," said Fundora. "Whoever they give us next, we're ready for."