Emmanuel Rodriguez became a two-time IBF bantamweight champion Saturday night, securing a unanimous decision over Melvin Lopez in headlining action live on SHOWTIME from The Theater at MGM National Harbor in Maryland.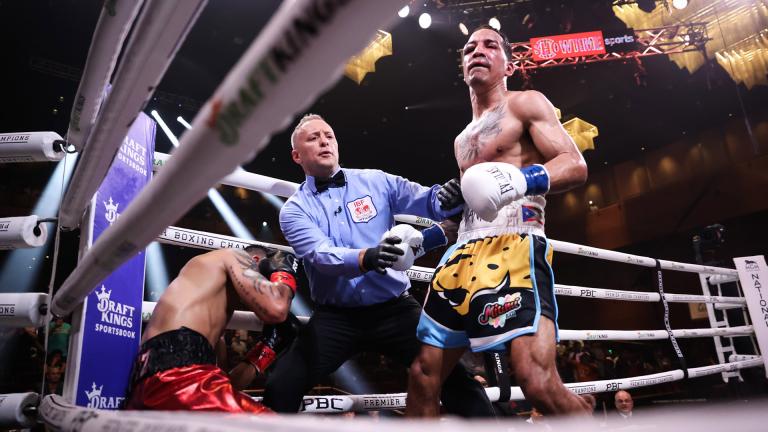 Rodriguez (22-2, 13 KOs) sustained swelling over his right eye in the second round of the 12-round battle, and even though the eye ballooned as the fight wore on, he outclassed his opponent to the tune of 120-105 scores in his favor from all three judges.
"This is the result of six months of hard work in Mexico," said Rodriguez, who is from Puerto Rico. "This wouldn't have been possible without my entire team. I was able to become a champion once again five years later thanks to them. Let's go Latin America, let's go Puerto Rico, and let's go Mexico!
"I remained calm despite the headbutt that caused my eye to swell up in the second round. It kept getting more swollen, but my team did an outstanding job keeping it at bay. I never had a problem with my eyesight throughout the fight."
Rodriguez put an exclamation point on the victory by knocking down Lopez (29-2, 19 KOs) three times in the final round, attacking him with a flurry of punches that put Lopez on the ropes.
"We worked on being powerful and purposeful with our power punches, besides showing off our skills," Rodriguez said.
"I want Santiago next. He says that he doesn't think anybody can beat him at 118 pounds, but I'm here to prove him wrong."
Lopez said he appreciated the opportunity to square off with Rodriguez, and thought he had a chance late in the fight to emerge victorious.
"I thought that Rodriguez was going to run out of gas, because I was hitting him, but the ref was annoying and kept getting in the way saying I was landing low blows," he said.
"The last round pissed me off. I felt I was solid until then. I was willing to die inside the ring in order to get a win, but I came up short."