super lightweight contender Elvis Rodriguez (14-1-1,12 KOs) overcame a slow start to earn a hard-fought majority decision over the hard-hitting Joseph Adorno (17-2-2, 14 KOs) after 10 rounds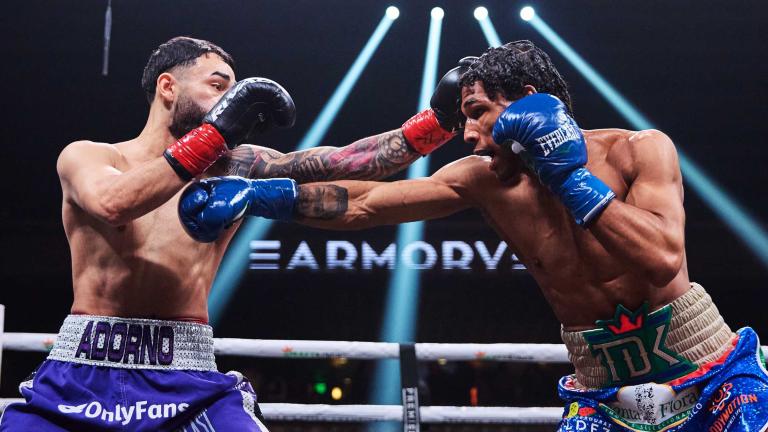 "Ring rust was definitely a factor," said Rodriguez. "Maybe the struggle was more mental than physical in a way, but the important thing is that I overcame it."
After a couple of rounds feeling each other out, Adorno was the first to have success, showing a varied attack with hooks to the body and head. He punctuated a strong fourth round with several counter hooks right before the closing bell.
In round five the action began to heat up, with Rodriguez starting to find a home for his offense as well, while still taking consistent return fire from Adorno. Rodriguez would eventually take control of the fight in the seventh round, landing a perfect right hook that badly hurt Adorno. Rodriguez followed up quickly and forced Adorno to the canvas to score the knockdown, although Adorno was able to stay in the fight and make it through the round.
"I thought I had him once I landed that right hook, but he got up," said Rodriguez. "He's a warrior and a good fighter… The seventh round was huge, that's when I truly started to win this fight. I have to give credit to Adorno for being savvy and knowing how to keep his distance before then."
Rodriguez rode that momentum through the rest of the fight, out-landing Adorno 52 to 33 across rounds seven through 10. The Freddie Roach-trained contender punctuated his victory in the final frame, landing a left that referee Jon Schorle ruled a knockdown, despite the objection from Adorno, who felt he was tripped during the exchange.
After the 10 rounds Rodriguez emerged victorious on the judges' cards, as one score of 94-94 was overruled by tallies of 95-93 and 97-91. Post-fight, Adorno expressed his belief that his early success was enough for him to earn a better result, while Rodriguez set his sights on the new 140-pound champion Matias.
"I thought the judges were blind," said Adorno. "I can't get a win with these judges. I don't know how you see the fight 97-91. I thought I won every round except the ones he dropped me. He never outworked me at all. I had the jab in his face and was snapping him to the body. He couldn't do anything. No way he won seven rounds. I thought 94-94 was okay because of the two knockdowns."
"Like I said yesterday at the weigh-in, bring on the winner of the main event," said Rodriguez. "And to my people in the Dominican Republic, just know that I'll be back even bolder and even better next time."