Highlights
–As soon as the bell rang, Hugo Ruiz starting popping the jab, appearing to look for an opening for his right hand against Julio Ceja.

–Ruiz followed a jab to Ceja's midsection with said right hand, which landed on the button, flooring the champion 13 seconds into the fight. As Ceja fell backward his right left twisted grotesquely. Even though Ceja rose to his feet, he limped on the clearly injured leg.

–Ruiz immediately pounced on Ceja, blasting him repeatedly with right crosses and hooks that forced his defenseless rival to the ropes, where referee Thomas Taylor stepped in and stopped it at the 51-second mark.
Ahead of Saturday's 122-pound rematch against Julio Ceja, Hugo Ruiz insisted he'd "be more aggressive" than he was in August, when he lost to Ceja in a thrilling world title fight.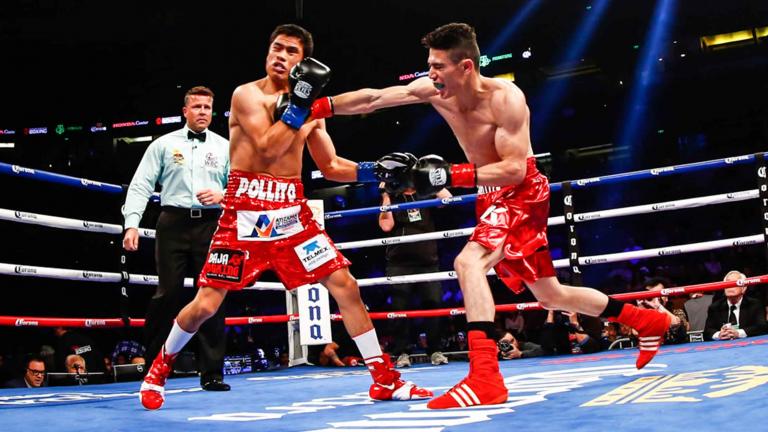 Ruiz sure wasn't kidding.
In another crowd-pleasing—albeit swift—masterpiece of fistic violence, Ruiz dropped Ceja 13 seconds after the opening bell rang and finished him off moments later to claim his Mexican rival's championship at the Honda Center in Anaheim, California.
The taller man by four inches, the 5-foot-9 Ruiz leveraged his power into a straight right hand which he blasted off Ceja's jaw, sending him crashing to the canvas. Ceja rose, but was noticeably limping on his right leg, which twisted awkwardly underneath him during the knockdown.
When the fight resumed, Ruiz smelled blood and unleashed a barrage of punches that Ceja couldn't answer, forcing referee Thomas Taylor to step in and protect the defenseless ex-titleholder for a shocking 51-second stoppage.
While Ruiz (36-3, 32 KOs) recorded his 18th career first-round KO, Ceja (30-2, 27 KOs) saw his six-fight winning streak come to an end as he was knocked out for the first time as pro.
Given the way their first meeting played out, it wasn't surprising that the scheduled 12-round rematch failed to make it to the finish line. Each fighter hit the deck back in August, with Ruiz scoring a third-round knockdown with a counter left hook and Ceja evening the score with the exact same punch in the fifth that put Ruiz on the canvas.
Although Ruiz got to his feet, Ceja immediately unleashed an all-out assault that led to the fight's conclusion. On Saturday, Ruiz once again scored the first knockdown, only this time, he finished the job.