After 10 rounds of back-and-forth action, unbeaten 126-pound prospects Leduan Barthelemy and Eduardo Ramirez couldn't settle the score in Sin City.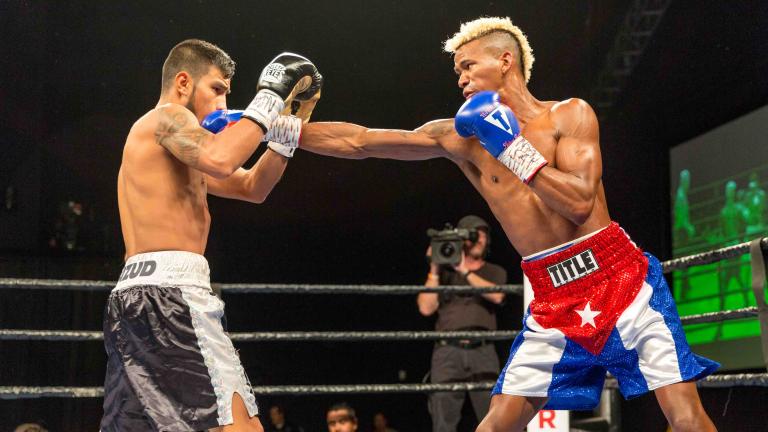 When two unbeaten fighters meet, the old adage is that "somebody's 0 has got to go." Tuesday night on Fox Sports 1, that wasn't quite the case as 126-pound prospects Leduan Barthelemy and Eduardo Ramirez fought to a split draw in the main event at the Cannery Hotel in Las Vegas, Nevada.
The Cuban Barthelemy (13-0-1, 7 knockouts) tried utilizing his reach early on but was bullied into a fight more often than he would have like. At 5'11", Barthelemy is extremely tall for the 126-pound weight class and has proven an effective boxer against lesser competition.
The 24-year-old Mexican Ramirez (20-0-3, 7 KOs) has faced the stiffer competition in the pro ranks, having already knocked off a couple of unbeaten prospects. Barthelemy built an early lead but by the mid rounds, Ramirez's pressing of the action evened things up. The sixth round was Ramirez's biggest, as he dominated the action and had Barthelemy backing up with no response.
Barthelemy turned the tide a bit as Ramirez tired out from going for it in the middle rounds.
But as is often the case when two unbeaten fighters meet and the fight plays out closely, the two went for broke in the final round.
Patricia Morse Jarman saw the fight 97-93 in favor of Barthelemy, while Richard Ocasio scored it 96-94 for Ramirez. Tim Cheatham scored it 95-95, allowing both fighters to continue to call themselves undefeated for another day.