Gerald
Washington
"El Gallo Negro"
Weight 246 lbs (111.82 kg)
Age 38
Home Vallejo, California,
Heavyweight contender Gerald Washington served in the Navy and played college football before making his pro boxing debut at the age of 30. Read Bio
Last Fight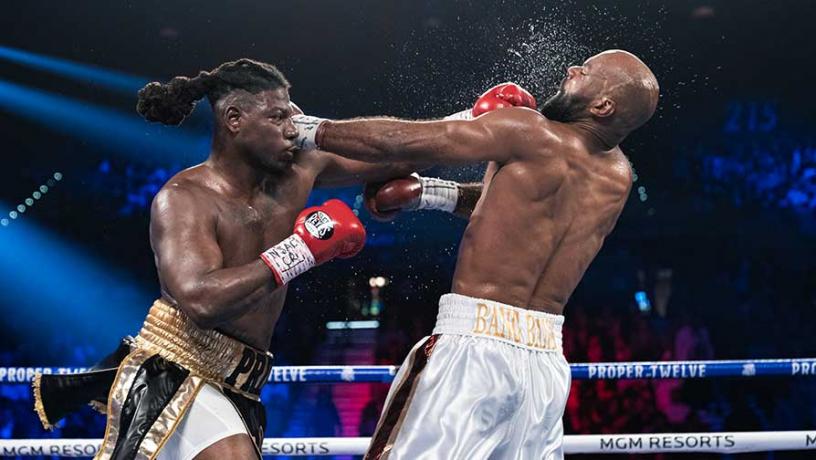 Feb 22, 2020 / MGM Grand Garden Arena, Las Vegas, Nevada
Gerald Washington suffered a stoppage loss to former Champ Charles Martin in their Heavyweight Title Eliminator in the co-main event of Wilder vs Fury 2 in Las Vegas.
Sign Up for
PBC

News

Get the latest fight announcements, fighter spotlights, and other PBC news delivered to your inbox.

Gerald Washington News
Gerald Washington Fights
WIN

vs

Robert

Helenius

28-2-0
Jul 13, 2019 • Minneapolis Armory, Minneapolis, Minnesota, USA
Robert Helenius LOSES to Gerald Washington by KO in Round 8 of 10
Jan 26, 2019 • Barclays Center, Brooklyn, New York, USA
Adam Kownacki WINS against Gerald Washington by TKO in Round 2 of 10
LOSS

vs

Jarrell

Miller

18-0-1
Jul 29, 2017 • Barclays Center, Brooklyn, New York, USA
Jarrell Miller WINS against Gerald Washington by RTD in Round 8 of 10
Feb 25, 2017 • Legacy Arena, Birmingham, Alabama
Deontay Wilder WINS against Gerald Washington by TKO in Round 5 of 12
Jul 16, 2016 • Legacy Arena, Birmingham, Alabama, USA
Gerald Washington WINS against Ray Austin by KO in Round 4 of 10
Win

vs

Eddie

Chambers

42-4-0
Apr 30, 2016 • StubHub Center, Carson, California, USA
Gerald Washington WINS against Eddie Chambers by UD in Round 8 of 8
Draw

vs

Amir

Mansour

23-4-1
Oct 13, 2015 • Little Creek Resort Casino, Shelton, Washington
Gerald Washington DRAWS with Amir Mansour by DR in Round 10 of 10
Win

vs

Mike

Sheppard

22-17-1
Dec 11, 2014 • Pechanga Resort & Casino, Temecula, California, USA
Gerald Washington WINS against Mike Sheppard by KO in Round 1 of 8
Win

vs

Nagy

Aguilera

19-8-0
Aug 22, 2014 • Sports Center, Fairfield, California, USA
Gerald Washington WINS against Nagy Aguilera by UD in Round 8 of 8
Win

vs

Travis

Walker

39-11-1
Jun 27, 2014 • Hard Rock Hotel and Casino, Las Vegas, Nevada, USA
Gerald Washington WINS against Travis Walker by TKO in Round 2 of 8
Win

vs

Skipp

Scott

16-1-0
Apr 03, 2014 • Fantasy Springs Casino, Indio, California, USA
Gerald Washington WINS against Skipp Scott by KO in Round 2 of 10
Win

vs

Arron

Lyons

12-14-1
Jan 24, 2014 • Fantasy Springs Casino, Indio, California, USA
Gerald Washington WINS against Arron Lyons by TKO in Round 5 of 8
Win

vs

Travis

Fulton

21-32-1
Oct 19, 2013 • Deportivo Morelos, Cuajimalpa, Distrito Federal, Mexico
Gerald Washington WINS against Travis Fulton by TKO in Round 1 of 8
Win

vs

Jerry

Forrest

7-0-0
Aug 09, 2013 • Fantasy Springs Casino, Indio, California, USA
Gerald Washington WINS against Jerry Forrest by KO in Round 2 of 8
Win

vs

Sherman

Williams

35-12-2
Jun 08, 2013 • Home Depot Center, Carson, California, USA
Gerald Washington WINS against Sherman Williams by UD in Round 8 of 8
Win

vs

Curtis

Harper

7-1-0
Mar 08, 2013 • Fantasy Springs Casino, Indio, California, USA
Gerald Washington WINS against Curtis Harper by KO in Round 5 of 6
Jan 11, 2013 • Fantasy Springs Casino, Indio, California, USA
Gerald Washington WINS against DJ Hughley by UD in Round 4 of 4
Win

vs

Marcus

Washington

1-0-0
Dec 08, 2012 • Business Expo Center, Anaheim, California, USA
Gerald Washington WINS against Marcus Washington by KO in Round 1 of 4
Win

vs

Brandon

Spencer

1-3-1
Nov 03, 2012 • Phoenix Club, Anaheim, California, USA
Gerald Washington WINS against Brandon Spencer by KO in Round 3 of 4
Win

vs

Terrance

Perro

1-0-0
Sep 29, 2012 • Fantasy Springs Casino, Indio, California, USA
Gerald Washington WINS against Terrance Perro by UD in Round 4 of 4
Aug 24, 2012 • Fantasy Springs Casino, Indio, California, USA
Gerald Washington WINS against Gary Cobia by TKO in Round 1 of 4
Win

vs

Eldon

DeLong

0-3-0
Jul 28, 2012 • HP Pavilion, San Jose, California, USA
Gerald Washington WINS against Eldon DeLong by TKO in Round 1 of 4
Jul 28, 2012 • HP Pavilion, San Jose, California, USA
Gerald Washington WINS against Blue DeLong by TKO in Round 1 of 4
Gerald
Washington
"El Gallo Negro"
Weight 246 lbs

(111.82 kg)
Born

April 23, 1982

Age

38

Country

USA

Born in

San Jose, CA

Trains in

Vallejo

, CA
Stance

Orthodox

Rounds Boxed

117

KO Percentage

52%

Boxing Hero