Omar Figueroa Jr. had to feel the nerves coursing through him again. It was a welcome greeting, that tingly pinch in his legs and arms. It was his body's way of telling "El Panterita" he was ready to go—that the 19-month layoff was over and his passion for boxing was fully reignited.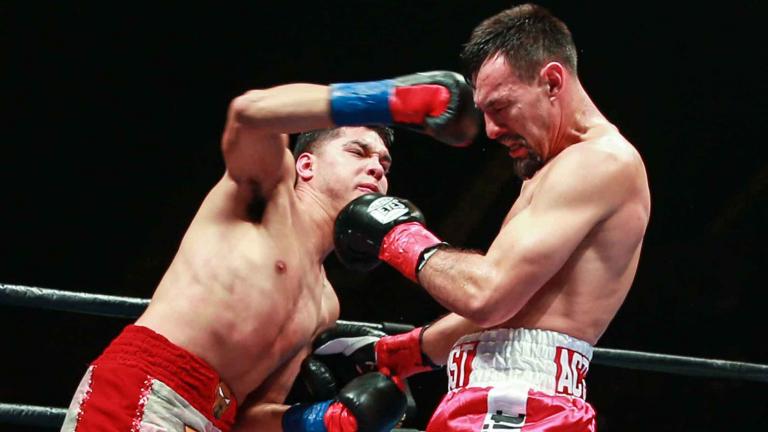 Robert Guerrero was sure to test Figueroa's resolve, as the former two-division champion was fighting for his own relevance after losing four of his last six fights entering their 147-pound battle before 7,492 fans at the renovated Nassau Veterans Memorial Coliseum, which was hosting a fight for the first time since Mike Tyson knocked out Steve Zouski in March 1986.
Figueroa, who last fought in December 2015, woke up the echoes of Tyson with bludgeoning uppercuts that eventually chopped down Guerrero five times on his way to notching a third-round TKO.
It marked a successful return for Figueroa, a former 135-pound world champion, while Guerrero was stopped for the first time in his 42-fight professional career.
The 34-year-old Guerrero outworked his younger opponent in the opening round, landing 40 of 93 total punches, but Figueroa stepped up his output in the second. The 27-year-old Weslaco, Texas, native snuck in a right uppercut that stunned Guerrero, then stepped back and landed a short right to the chin.
With his corner imploring him, "Robert keep boxing, go back to boxing," Guerrero couldn't escape the onslaught from Figueroa, who landed 88 of 185 total punches (48 percent) in the fight, including 49 of 97 in Round 2.
At 1:54 of the second, Figueroa unleashed a perfect left uppercut that sent "The Ghost" down on both knees. That triggered something in Guerrero, because he came storming back and pinned Figueroa against the ropes. The younger fighter punched his way out, though, and once again had Guerrero in trouble.
From there, neither fighter could get out of the way of each other, but another pulverizing right knocked down Guerrero a second time with 30 seconds left in the round. Guerrero was barely able to stand before Figueroa landed a body shot, putting him down a third time in the round.
Still, referee Ron Lipton let it continue as the bell ended the round, although it appeared Guerrero was out on his feet.
Whatever he had left, Guerrero let loose in the opening seconds of the third. The lionhearted southpaw backed Figueroa up with big, looping shots, leaving himself open for countering uppercuts. It was a short right that dropped the Gilroy, California, native a fourth time, with 2:15 left in the third. Finally, Guerrero's gallantry gave way, and a left to the body felled him a fifth time.
That was enough for Lipton to end it at 1:30 of the third.